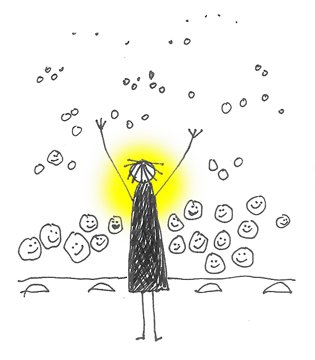 Do you have a LinkedIn account, get asked to connect with people, even have a lot of connections…
And yet don't seem to get any good or even discernable results?
Me, too – until only a few weeks ago.
I was so discouraged by it – here I had almost 1000 connections … but it seemed like there was no real evidence of any concrete benefit.
I couldn't figure out what to do about it…
I was about to delete my account as a time-waster.
After all, it was supposed to be a place I could meet and connect with potential clients who were in my intended audience, and with like-minded people who also served those same potential clients.
But so far, all I saw was…more people like me. I thought to myself, "What good does that do anyone??"
After all, why would a dentist want to meet other dentists? A psychic, other psychics? I'd think they'd want to meet people who needed their services.
Well, I wanted to meet people who were my market, too, but it wasn't happening there.
So just for fun…
I thought I'd play around with a few things and see what happened.
As any good tester knows, you're only supposed to tweak one thing at a time.
But I was impatient, so I tweaked two.
And in only 2 weeks…
I suddenly saw that, even though I only had 980+ contacts, I nonetheless had a real potential reach of over a million people.
I almost fell off my chair!
Want to know how I did it?
You'll fall off your chair, too, when you hear about
the two simple things I did,
how to do them
how absolutely simple they are to do –
and then do it yourself.
INVITATION:
I set up a live teleseminar so I could share with you what I did. I invite you to get the MP3 Audio Recording, so you can start expanding your LinkedIn connection and contact results, too.

How to Make 2 Small Tweaks to Reach Millions of LinkedIn People in Your Market.
The 2 little tweaks I'm going to show you will help you:
 Super-maximize your Profile
 Be way more attractive! Magnetize your potential clients!
 Find thousands of new allies and supporters
 Write tantalizing entries that your market can't ignore
 Find and meet celebrities and top-level winners in your market to play with and do JVs with.
Once you connect with, contact, meet and start playing with all these new people, your business will grow faster, you'll make more money and feel more successful, and you'll go to sleep at night feeling like you've been Doing It Right.
Get the downloadable MP3 Audio Recording:
CLICK HERE to Register: $19.97
(You do not have to show up live to get the audio)


You can use Paypal or your credit card
GOT A LINKEDIN ACCOUNT?
In order to benefit from this teleseminar, you must have a LinkedIn account so you'll be familiar with what I refer to on your LinkedIn Profile page. I suggest that if you don't have an account yet, go there and set one up right now, even if it's all you do at the moment. Be ready!
SURPRISE:
You'll be able to use the first tweak I'm going to tell you about on your Twitter and Facebook accounts as well, to great effect.
Get the downloadable MP3 Audio Recording:
CLICK HERE to Register: $19.97
(You do not have to show up live to get the audio)
Don't be deceived by the super-low fee – you'll be surprised by the powerful results you'll get when you make these tweaks right! Later, I'll be marketing this teleseminar at a higher fee.
-=-=-=-=-=-=-=-=-=-=-=-=-=-=-=-=-=-=-=-=-=-
NOTE: You will get a receipt from ClickBank (CLKBANK*COM). If you need to contact us, please just email Lyon at AngelaTreatLyon.com (no spaces, use @ for at).
aloha,
Angela Treat Lyon
Host: Daring Dreamers Radio and Executive Success Business & Marketing Coach