Lisa is back! I featured her some time ago, and thought I'd bring her back.
She was a star of The Secret Movie, and author of one of the Chicken Soup for the Soul books with Jack Canfield and Mark Victor Hanson.
Lisa had a pretty tough bringing up – hard family situation, bad complexion, being a young single mom, a fiancée who almost beat her to a pulp, no self-esteem, a job she hated…until she decided it would be her ticket to be able to create and live her Dream and her Passion…
And here she is, one of the primary people teens now look to to get advice, hear their problems and help with solutions and create safe space…she's written books (see below for her book, No Matter What), created teen programs, and she has even been ambassador to South Africa.
Even with all those challenges, Lisa developed a Do-It No matter What attitude, and now she's out there, Dreaming,  and Daring and DOing It.

How inspiring is that? I invite you to CLICK HERE or click on the IDYR logo to the left to go to our conversation and get re-insired to Dream, Dare and DO your own passion – NOW! Lisa is always a delight to speak to – I know you'll enjoy this 29-minute studio interview!
You can also find out more about the incredible work Lisa does with teens at her site: Lisa-Nichols.com.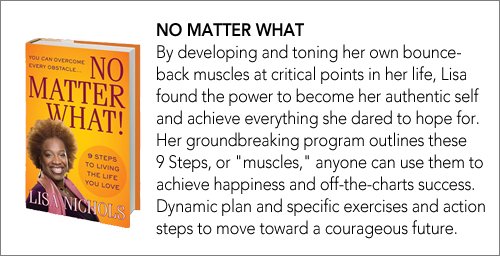 .