Quit Making These 3 Monstrous Marketing Mistakes!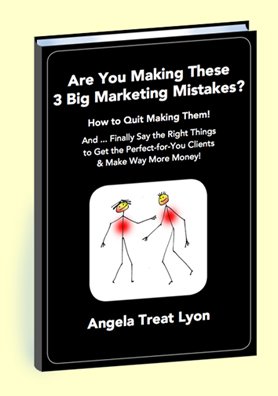 Want to find out how to market without feeling like the stereo-typical sleazy used-car salesman?
Ever noticed how some peoples' eyes just glaze over as you talk to them about what you do?
Don't you just hate that? Doesn't it make you feel like throwing up your hands and saying to heck with it all sometimes?
If you make the 3 basic mistakes outlined here in this book – and be assured – most people don't even know they do them – you'll get that blank-eyed stare as you introduce yourself, and you won't make any connections, much less sales.
Don't feel discouraged – it isn't your fault!
No one ever taught you these three mistakes, or the critical elements you must know in order to be able to talk about what you do so people get excited and want to know more!
I show you the mistakes, and how to correct them so you can magnetize your perfect-for-you clients, make more money and make more of a difference with the important work you do in the world.
Here's where to get your book – and a surprise!
Just fill in the simple form below using your best email address so you will be sure to receive the ebook.
IMPORTANT NOTE:
Not only will you get your FREEbie ebook and your surprise, you will also get info about our memberships, updates and info from EFTBooks.com and its sister sites, EFTBooks.com and PIGEES.com.
It's all about the good stuff I find for my list, my teleclasses and courses, as well as Guest Experts I interview on The Daring Dreamers Showcase: business, marketing, prosperity, manifesting, and energy techniques.
(You can of course unsubscribe any old time, and I detest spam – I don't sell or share your email address with anyone.)