Way back in November of 1981, after almost 20 years of having been a fine art potter, I decided to take the next step. It was time to make the move from making pots – upon which I drew very detailed designs in black and white – to carving 3-d figures in stone.
I had just been introduced to carving-stone by an old friend, and I was hot to trot. I couldn't stop thinking or dreaming about it, and I even now had stone in my studio just sitting there begging to be carved.
From everywhere and everyone I heard, "Oh, Angela! You shouldn't stop making your beautiful pots!" But I just knew it was Right for me.
Although I had been supporting myself and my 2 kids on my pots, and it was really scary to think of selling off my clay, glazes, kilns and all the stuff having to do with creating my pots, on December 25th, I told my kids that I had decided I'd stick with making pots for one more year so I could have a smooth transition into carving stone.
Oops – nevermind that plan!
And at 11:43 am on December 31st, I was slammed not once, but twice in a car wreck that completely totalled my car and left my neck and back so damaged that I was told I'd probably never walk again.
Lying in bed, drowsy from pain pills, I heard…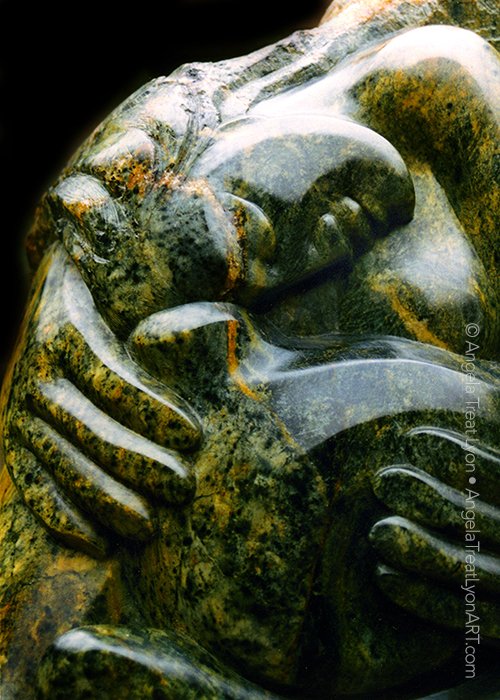 One was saying that it was such a shame I'd never walk again, and if I'd never decided to quit making pots I'd still be OK, shame on me, why couldn't I ever take anyone's advice.
Another very firmly told the first one to stuff itself in its own dark place, and that it was because I had something to Do that I had to continue carving–even if I had to do it sitting down.
And yet another that told both of them just to be still, please, because the universe is a mutable essence, and if we could all work together, we could heal my body and not only get me walking again but carving and carrying big rocks around as if I was a 20-year old again.
I loved that last voice!
It made me feel so supported and so powerful. From the inside out. And although I was flat on my back and in too much pain to move, I felt as if I had a rocket inside of me that simply had to take off, that wouldn't allow me to sit and stew or feel sorry for myself or stop seeking assistance in getting back on my feet.
I went to 3 'experts'
All of them wore long, grave faces, closed their office doors sooo carefully and quietly, sat down and gazed at me solemnly across their desks. They each spoke in hushed tones, as if I was already one foot under.
By the third one, I was livid. Boiling. I refused to put up with their cemented belief that I'd be crippled for the rest of my life.
I fired all three, went home feeling curiously light, happy, and utterly trusting that someone would show up for me.
Ahhh…Real help!
The very next day, I was introduced quite by chance (right!) to a chiropractor who lived a half a block away! Within 6 weeks he had me walking again, and most of the aches and pains and stiffnesses and knots in my neck and back gone.
Needless to say, I decided to uphold my original choice to move on from pots. The Universe had spoken, and I listened. I've been carving stone ever since, going into painting and illustrating on the side.
Walk your dreams
And I'm going to continue to talk my walk, and continue updating you on the techniques, systems and tactics I take and that I hear about and think are great that will help you walk your dreams.
Why is it so important that we do so now, of all times?
Because if we get caught in oh-the-economy-is-bad-woe-is-me-what-am-I-gonna-do BS, we'll stay there.
Focus
You know as well as I do that we get that upon which we focus. Focus with me and all the other aligned people who are knowingly, trustingly, joyously creating life the way we want to live: conscious, conscious, conscious!
It's Time–NOW. We have enough information about how to create what we want, we have enough resources and connections to build the world we want, and we have the guts, the minds and the heart. I refuse to even imagine our not doing it.
Look at interruptions and pain and illness and obstacles as messages, not blocks.
Look at them and ask, "where is the energy in this that I could use to create something better–for myself, my loved ones and my world?"
Then ask…
What is the first thing I can do, what is the first step I can take towards something I'd rather have or be or do?
What can I say in my mind that will keep me from the perpetual downward spiral of why-me and oh-I'm-stuck by asking yourself what would I rather see/feel/do/have?
What is my next step on my continued path, holding the space for the Dream?
Why ask these Qs?
Because it's right here, right now, and all we need to do is let it expand within our hearts and minds and lives.
INSPIRATION
Here are SOME of the most radical, most heart-swelling videos I've ever seen.
Here is how one jaded young man woke up and changed his mind and has now helped thousands of people all over the world get clean water.
Not only that, but he has developed an amazing charity structure that allows ALL–yes, 100%–of the monies donated be used for the intended people and purposes.
http://ebenpagan.wordpress.com/2008/12/03/charity-water-replay/
Please do pass this one around!
Top Image: Leaf Bowl and Fish Bowl, porcelain, © Lyon 1981 (sold)
Sculpture: Hula Kahiko, soapstone 24″ x 13″ x 6″ © Lyon 1999 (sold)