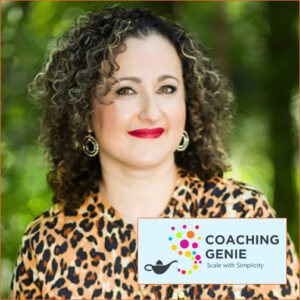 If you're a coach or teacher, you will definitely want to know about this.
Listen in as Milana describes CoachingGenie and how to use this fantastic all-in-one platform.
I bring it to you here because as a coach, myself, because after checking it out if there was any other platform like it, I know there just ISn't anything like it, anywhere else!
After researching and trying dozens of different platforms, Milana could not find anything that would allow her to easily deliver group coaching programs. Either they weren't designed for coaches, or you had to duct tape a bunch of tools together, making it too complex and time-consuming.
So, she created CoachingGenie, an easy-to-use coaching software with a 20-minute learning curve that gives you an all-in-one dashboard for delivering your programs, managing your coaching content, and communicating with clients.
WHAT DO YOU GET?
If you want to up-level your business and get beyond 1-on-1 Coaching: Groups, programs, and other fun ways to make money as a coach, listen up!
Milana shares the most important keys to designing a lucrative coaching program clients will love. Who wouldn't want to know that?!?
Quick and dirty practical steps you can take, all drawn from the biggest lessons Coach Milana Leshinski learned after creating and delivering 100+ programs, herself.
•   Discover the secrets of group coaching
•   Find out how to leverage your expertise through creating programs
•   What are the first few steps towards leveraging your expertise as a coach?
•   How does your role in the business change as you start expanding beyond 1-on-1?
•   What are some of the challenges in creating programs and groups?
•   What tools and systems do you need to easily manage your coaching products, and build a multiple-income-stream business?
What if you could create multiple revenue streams on one platform? That would make things SO much easier, right?
GIFT for YOU!
Make sure to WATCH/listen all the way to the end, so you can find out what Milana's special gift for you is!
Watch the podcast video here on this page, above.
On the go? Listen to the audio on Anchor.fm.
You can find Milana at CoachingGenie.com