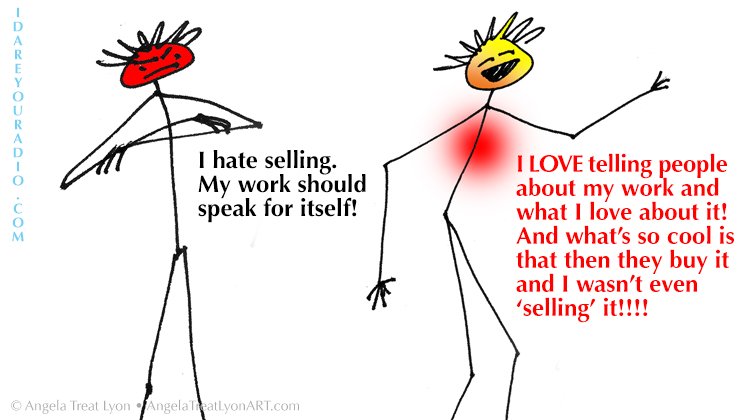 What, really, *is* success–to you? And why would you want it? What will you do once you attain success? How will you contribute? With whom will you share your joy, your money, your time, your talents, gifts and skills?
This is what is important, not the just the money. I had a deep breakthrough a few years ago when I read Lynne Twist's book, The Soul of Money, when I read that she defines money as a vehicle that allows you to fulfill your soul's deepest desires. My heart flipped into a new position–at last I could contribute and receive money and it was OK!
Wow! That was a far cry from the bland, uninspiring definitions I'd heard before: it's just 'an energy exchange,' 'a vehicle of commerce,' 'neutral energy,' and so on.
I used to hate selling
I felt ashamed to want money–like it was some spiritually bad thing to have anything to do with. Now I saw that I could acquire it and use it and it was OK–that I could allow it to come and go through my hands so I could contribute *and* feel fulfilled and valuable.
And then someone asked me this:
What if you thought of each dollar as a unit of appreciation? Like every time you get paid for something, someone is saying, 'thank you, I appreciate what you've done for me.' I love that! So now each time I pay my bills, I'm saying thank you to that company or person for the service rendered.
What is wrong with selling yourself?
If we remember that the root of the word 'to sell' means to serve, it looks like a different animal, doesn't it? The manner of selling is what counts. It isn't serving to push yourself and your goods on anyone. That will end up–especially in this day and age where everyone down to a one-year old is suspicious of salesmen–in your being pushed away.
Rather, what would happen if you simply shared with people what you love about your work? What results you get with your clients? What they get out of your work? Then you are in integrity, staying in your own space and not intruding on theirs, and they get to choose whether or not what you do resonates with them or is anything they'd like to try out.
If you don't tell people, they won't find you!
Because believe me, in this busy world, if people don't hear about you and your work, two very sad things happen: the people who want and need what you do never hear of you and they miss out receiving the benefits of your gifts, and you miss out on contributing to them and feeling fulfilled because you helped those people. Everyone loses.
We need your services and products.
We need YOU and your gifts and talents.
We need you to prosper so you can continue on your fulfillment journey.
We also need you to prosper as an example for what we can do, too.
I want you to feel fulfilled, humble, proud and excited, rather than bashful, afraid and ashamed of selling and of your desire for money.
Money helps you feel appreciated and supported. What's wrong with that?
Each dollar is a Unit of Appreciation you give and receive.
Selling is letting people know about your passion and what it does for people in a way they can receive and make an informed choice.
So money and selling seem like different animals now, don't they?
Does that help? 
It sure would have helped me tremendously to be able to think like that way back when I was still starving! I'd have been able to see myself and my role in life in an entirely different light, and thoughts of ending that life would have never occurred to me–they sure don't anymore!
I used to picture millionaires as greedy, hand-wringing money-mongers. For some reason that image–like the skinny, black suited Bad Guys in cartoons–stuck with me for years, although I really did know better.
Don't let that image wreck your relationship with money.
Instead, allow the thought of money as an instrument of fulfillment inspire you to think of your soul's Deepest Desire. And then go about fulfilling that Desire as a Sacred Mission, step by step.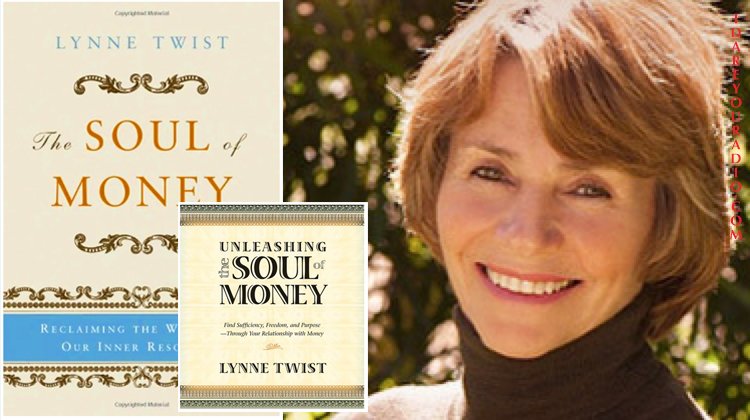 You can get money-activist Lynne Twist's book here: The Soul of Money: Reclaiming the Wealth of Our Inner Resources
You can get the audio version of it here: Unleashing the Soul of Money
Lynne has worked with over 100,000 people in over 50 countries – she must be doing SOMEthing right!
==.==.==.==.==.==.==.==.==.==.==.==.==.==.==.==
EFTinEveryHome.com
You can help get EFT into every home on the planet–just share this EFT Basics site with everyone!
EFTBooks.com
The International Source for the best EFT Books and my Wealth maverick Audios!
==.==.==.==.==.==.==.==.==.==.==.==.==.==.==.==