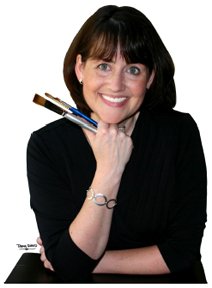 This week's Daring Dreamer: Artist and Art Licensing Expert Tara Reed.
I invite you to pay close attention to this Daring Dreamers Showcase, because in a time when more people – especially artists! – are complaining about how hard it is, Tara has only seen more and more success. (Find her at ArtLicensingInfo.com)
Listen to this – it will surprise you and blow you away!

At a particularly powerful time in her life, she was smart enough to ask herself the right questions and listen to the answers and take action on them. She has given herself the gift of a powerful marketing seminar, which allowed her to learn how to do what her dreams came up with.
In this interview, you'll hear how to ask the same kinds of educational questions so you, too, can fly through this trying time with freedom, fun and financial gain.
Artist Tara Reed is a mom and an artist whose business is licensing her art: making it available to compaines who place it on various merchandise. She calls herself an artist "by passion, not education," because she has no formal art training, yet has made her work work for her.
During her 2004 divorce, she realized she had to make a decision:  take the safer route and get a traditional job with a boss and benefits, or continue with her desire to build her own business on her terms. As a Daring Dreamer, you can guess which she chose!
Only four years later, Tara created ArtLicensingInfo.com – the go-to site for artists to learn from a variety of experts in the art licensing industry. She's passionate about teaching other artists what licensing is all about, why do it, and how to take the steps to do it.
Click on the logo to the left or HERE to listen to our interview.
AND: This is fantastic – wait until you see this! If you are a creative professional, looking for a better way to work and grow your business, you're going to love it!
Tara created The Goal Wheel for Artists™ (I use it, myself and love it – it's easy to use because it's designed for us right-brainers!). It is created specifically for artists and creative professionals who want to set & achieve goals while still working from a place of inspiration. Click HERE or on the logo below to get it!
And if you would like to hear a great call Tara did for SEO (search engine optimization) for artists, go HERE.
Did you find this article and interview useful? Comments are open!