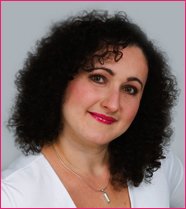 Last week I had the honor of interviewing Marketing Expert Milana Leshinsky (Milana.com).
I was particularly pleased because I have gone through three or four of her online courses, and got great results with them. So I wanted you to meet her, find out all about her and her online marketing secrets.
After a childhood intensely focused on musical training, Milana emmigrated from the Ukraine in the late '90s, expecting to continue her musiccal career. You'll find out why that didn't pan out, and how she jumped from music to enormous online marketing success – scared to death, not having known anything about computers or even what a mouse was!
You'll also find out how Milana creates compelling marketing messages; why she doesn't blink an eye over refunds; and how she discovered the secrets to membership site profits.
I was fascinated to find out why Milana insists on avoiding cleverness; how she finds out what her audience really wants (and why); and why it makes sense to sell your product before you even create it!
And, for those of you who shy away from charging high fees, listen up! Milana discusses why people will, indeed, pay your high-ticket fees; the value of specific packaging; and how to introduce yourself and your plan for instant recognition and sales.
<<< Click on the IDareYouRadio.com logo to the left, or on the link below to go to the first episode. Each of the four 15-minute episodes contain gems you'll want to remember, so have your paper and pen ready to take lots of notes!
Click here for the Milana Leshinsky Interview
________________________________________________________

________________________________________________________