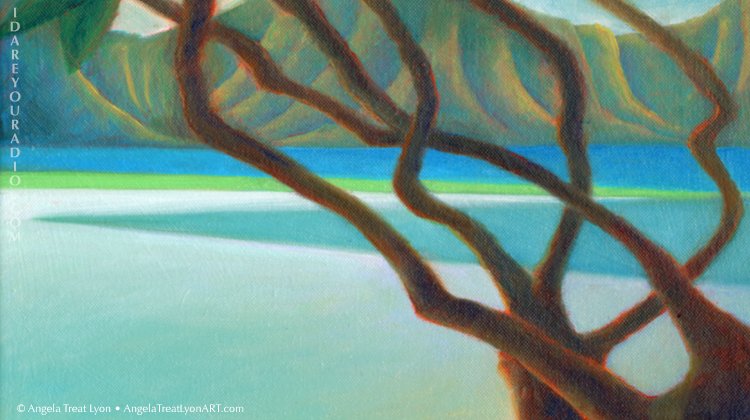 I'm remembering how it used to be here in Hawaii before it got so populated. I came to Maui in 1966, and later lived for years on the island of Kauai in the tiny town of Kekaha, which was built up around a sugar plantation.
At times the cane fields would be burnt in preparation for harvesting. The flames would rise up higher than our rooftops, and the smoke and the sweet smell of molasses permeated everything.
(Image is of my painting is Kaneohe Bay, original oil)
HAOLES
My kids and I were the only haoles (white people) in a mostly Filipino settlement. They thought I was weird because, as an artist working for myself, I didn't work for the plantation – and I thought they were weird for making blood pudding, eating dried, smelly sardines and killing pigs under my window once a month. But after a while the hard edges of our judgements wore off and I was honored that we eventually became an accepted part of that group of really wonderful people.
TALK STORY
We used to gather spontaneously on someone's back steps near the beach in the afternoon, break out the guitars, ukuleles, beer and sodas and our kids would run around as we talked story and sang Hawaiian songs and gobbled tons of local food.
SWEET, PUNNY MUSIC
Today I found a site with music like we used to sing, and wanted to share it with you because the music gives such a taste of what it felt like then–slow, uncomplicated, sweet, and sometimes very funny.
The Hawaiian language is full of puns–with four, five, even six levels of meaning with every well-thought phrase–so a song about a man's prowess surfing could be taken many ways! The impromptu hulas we did when we sang them were always a source of hilarity. If you go here you will see a list of sample songs.
The music is acoustic slack-key guitar. The guitar first came to Hawaii in the 19th century with the Mexican cowboys (paniolos), but when they left, no one could figure out how to tune them. They 'slacked' the strings, until a single chord was formed in what they call 'open' tuning. A whole tradition has grown up around that sound, and these songs are little bitty samples of the feeling of the islands.
I especially love the song Ku`ulei `Awapuhi (Ku'ulei means beloved, awapuhi is the local yellow ginger that grows abundantly in the forests.) because it really sounds like what we used to play those afternoons. You may not like it, but to me it always brings me to my heart and makes me weep. It wasn't always that way–there are many songs here where the guys sing in falsetto, and when I first heard them I could hardly believe my ears. But now the music is so ingrained in me I hear it and the ocean sweeps through me, the moonlit nights, bird calls and forest sounds fill me and I feel full and content.
The song Pu`uanahulu is a good example of some sweet slack key guitar playing. Pua Sadinia makes me cry every time I hear it, although I know perfectly well it's a rendition of a haole song….Ka Uluwehi O Ke Kai sounds exactly like the un-mainland-influenced songs in the early 60s.
If you want to hear some really incredible Hawaiian sounds, get any album by Iz, Israel Kamakawiwo`ole (kah MAka veevoh OH-ley), a humble, sweet, talented singer whose heart gave out after a long battle with obesity, whose rendition of 'Over the Rainbow' has been played and celebrated world-wide. Here's my favorite album of his, Alone in the World.
There are other albums there on that site with plenty of examples of the real Hawaiian music. Nowadays it's permeated with rap and rock, and the older songs with sharp cutting chants and the wavering older people's voices is fading out. But that's what happens–music changes to reflect time times and the people living in them.
Look for music from some of the best: Keola and Kapono Beamer, Olomana, Palani Vaughn, Gabby, Cyril and Sonny  Pahinui, Israel "IZ" Kamakawiwo`ole, Sonny Chillingsworth, Peter Moon, Ozzie Kotani, Ledward Kaapana….