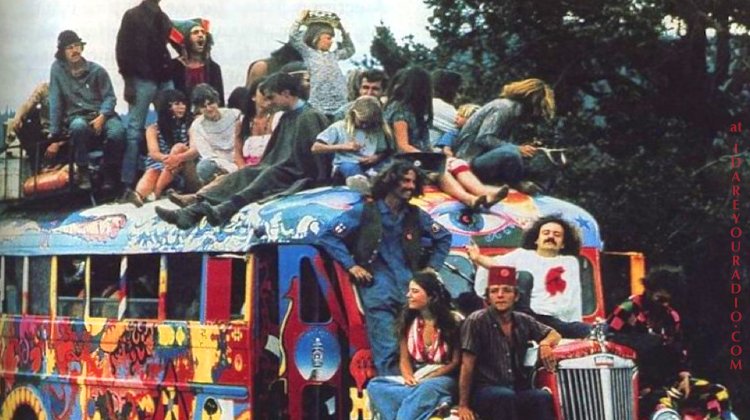 In the 60s, I lived in New York City. Somehow, although I was surrounded with artists, musicians, poets and writers on a daily basis at the art school I attended, my parents expected me to keep myself suspended from that reality and "keep pure of mind". I had no clue whatever that meant!
Suffice it to say that if they actually thought about it and realized that I was hanging out with these people, my very straight folks would have had apoplexy and keeled over on the spot.
The attic
One Sunday afternoon when I was visiting my folks, I had a wild urge to sneak up into the attic. We were expressly forbidden the attic because it was "unsafe."
Unsafe, meaning that, over the broad expanse of most of the attic there was no floor, with only a small section at the far end covered with enough plywood to allow a small stack of old boxes to not fall through to the floors below. Of course, it was assumed that jumping the two-foot distance from one cross-beam to the next was beyond the capabilities of an athletic girl….
That day, I discovered the box of clothes, medals and other military paraphernalia from my dad's WWII tour of duty. I never knew he'd been given those medals! No one ever talked about the War – that was a Black-Frown-We-Don't-Discuss-This Topic.
When I asked my mother, all she would say was how lucky my dad had been to get home whole – he'd almost lost his leg to gangrene after a long attack when he was a mine-sweeper in Italy.
And all my dad would say about the now-fuzzy diamond-shaped tattoo under his watch was that it reminded him of something that helped keep him sane during the last year he was overseas.
When I heard that, I almost shrugged my shoulders and thought, in my teenage arrogance, "agh, corny!" But the look of adoration and sweetness in his voice was so unusual and completely unmistakable as he gazed at my mother as he said it that I felt bowled over. He never said more, but I bet that diamond meant the one she wore on her left hand.
Did you know you could do this?
As I went through his stuff, I found his old Navy whites. There were 4 pairs of these bell-bottomed trousers. They were intentionally cut that way so that, if sailors fell overboard, the legs could be tied in such as way as to become life-saving bouyancy support (how they do that is still a mystery to me). I loved the softness of the worn cotton and the style and shape of the flap and buttons in the front.
I yanked two pairs out of the box, crept downstairs again and tried them on. I marked them where to cut and where to sew, and modified the pants to fit me.
Go-go girl?!?
I bet you never knew this: I was one of the first go-go girls in NYC. I was working as a hat-check girl/waitress (of course I told them I was 18, right?) in a bar that had live music. When the band took a break, another girl who worked there and I would get up on stage and dance to the canned music.
The manager didn't want us onstage – he thought it looked "undignified," and that it would would hurt the bar's reputation. One night he caught us out and was physically pulling us off the stage, when some of the customers told him to leave it alone and let us dance, shouting, "Go! Go! Go!" She got her own dad's whites and started wear them onstage, too.
In an old local thrift shop, we discovered some tall, black cossack-looking boots for her, and I found some knee-high boots that looked like D'Artagnon had worn them. We became so attached to our 'look' that you'd have had to kill us to get the boots off.
The 'greats' – were not, back then –
We watched as, gradually, the bohemians we hung out with in Greenwich Village, where we went to see Bob Dyland and Dave Van Ronk and Woody Guthrie and all, stopped wearing the short, tight-ankled black pants and pointy shoes, and as more and more bell-bottoms and adjusted jeans with embroiodered gussets made their way into rebel fashion–eventually becoming de-rigeur hippy-wear.
What effect have YOU had on the world?
Often, you never really know what kind of effect you have on others until looking back years later.
How did I know my father's uniform bell-bottoms and those thrift-store boots would be come part of a rage that would last for years? To us it was just something that was fun, different, and felt great.
There had been dancers onstage for eons, but none had ever dressed or danced like we did!
We started it!
We were a small part of the beginnings of a huge movement that is still alive today (thought us old hippies had died out, eh? Wrong! Who do you think are beacons of the green movement?!?)
So if you find yourself bucking the odds and wearing, singing, dancing, writing or creating something that seems totally odd to your friends, family, boss, co-workers or school-masters, keep going!
Don't stop because someone says, "that isn't the way it's done, dear!"
Keep cutting away what feels wrong and out of alignment with your soul, and keep listening to your heart and feeling great.
Because it's when you feel great that you share yourself, at your best, with the rest of us and the universe. We need you; you need us; we all need each other – at our very, very best.
aloha –
Angela
==.==.==.==.==.==.==.==.==.==.==.==.==.==.==.==
EFTinEveryHome.com
You can help get EFT into every home on the planet–just share this EFT Basics site with everyone!
EFTBooks.com
The International Source for the best EFT Books