Alyson B. Stanfield was a museum curator for a number of years, so she has quite a background in the making, presenting and marketing of art.
She also worked in a surprising place you'd never think anyone in the arts would work – you'll hear about that, and how it affected her life and expertise!
I was really pleased to be able to interview Alyson and hear her expertise and insights about marketing. I've gotten her newsletters for years, and highly recommend her to you as a coach.
I invite you to listen in as she gives us inspiration and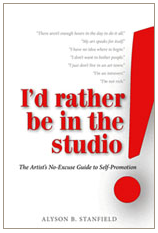 insights about what she's dared to do in her life and what you as an artist or business owner can do to spark up your own life and biz.
Click HERE or on the logo to the left to go to the podcast.
And you can get a copy of her fantastic book, I'd Rather Be in the Studio, by clicking HERE or on the book cover image to the left.