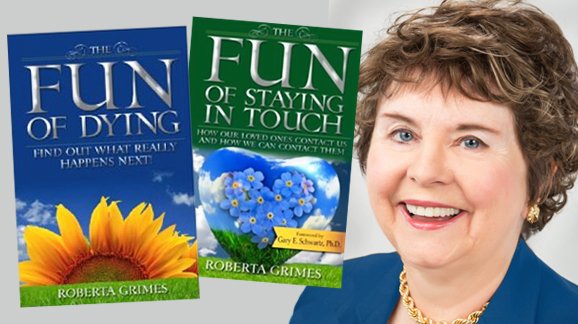 Prepare to be stunned by a completely different way of thinking about death and dying – full of love, passion and joy!
At 8 years old, Roberta had a surprise visit from someone she calls an emissary of the Light.
Subsequently, she has spent almost all her life focused on her fascination with what happens at and after death.
What does happen?
Years of research have shown her what happens at our cross over, and what is most important for us to do in this life.
I wouldn't have believed it if I hadn't read her amazing book, The Fun of Dying, but her sincerity and her immense expertise come through loud and clear.
5 Levels of … what?
I was fascinated with her description of the 5 levels of the Summerland, the name she gives the place we go to after death IF we're lucky and have done our internal work.
Which means, of course, the more we increase our spiritual frequencies in this life, the 'higher' we go after we die.
You'll be interested in:
the real nature of the universe
why Roberta experienced a "spiritual void" and why that was such a gift to her
why she started out only reading research before the 1950s
how the information she shares with us is aligned with Quantum physics
what can go wrong in transition, and what happens to us if we pay attention to the wrong thing as we die!
why suicide is a completely futile way to try to escape your pain
why we ought to stop thinking of ourselves as mortal
who forgiveness is really for
what is Dark Matter and what is Dark Energy
what is the nature of god

Click HERE or on the Daring Dreamers Radio icon to listen in to this powerful, eye-opening interview.
Warning: her Daring Answer may not please you if you adhere to strict, rigid Christian ideals. It will please you if you have an open mind – which, being a Daring Dreamer, I'm sure you have!
Recommended resources:

Click HERE to read Life After Life: The Investigation of a Phenomenon–Survival of Bodily Death
Click HERE to get The Magical Approach: Seth Speaks About the Art of Creative Living (A Seth Book)
Click HERE to get A Course In Miracles
Click HERE to get Roberta's book, The Fun of Dying

(which I loved, in particular the incredible appendices where she lists and describes which books to read and why.)
Click HERE to get her next book, The Fun of Staying In Touch