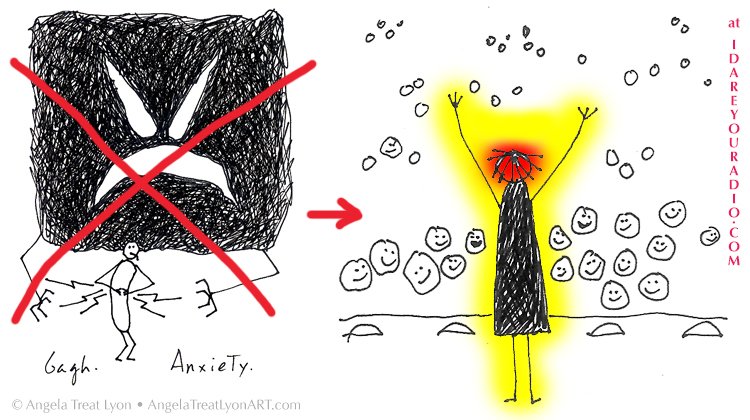 Having thought of myself as a renegade artist for so long, I never thought I'd be teaching anything – much less the subject of business or marketing – at any government agency.
So it was a real surprise when a friend of mine who is the course director at our local Honolulu Small Business Administration, called me and asked me if I'd like to give some classes there.
I thought, why the heck not?
There are people who really could use what I know! So I put together four possible classes they might want to run.
So you can see the various possibilities, here's what I proposed:
How to Reduce or Eliminate Stress
How to Give Successful Teleclasses
Play with Your Money for More Money to Play With
Internet Marketing Made Easy: Are You Missing These 8 Essential Elements of Marketing?
They wanted the internet marketing one.
That was a surprise, but I didn't mind.
Then I had to think, "who is my audience? Who will be coming, and how do I prepare my class for that group?"
Who's the best niche to market your class to?
In your local SBA, I can almost guarantee you there will be at least one person who knows that women comprise 52+% of today's business owners.
Women are the hot market to target.
Women are sick and tired of the push marketing model, and are naturals for pull, or attractor, marketing, AND not only know how to do it, but have had a major presence in the bazaars and marketplaces of the world for hundreds of years.
What will teaching at the SBA get you?
If you offer a course at the SBA, you won't even believe what that will get you. They have hundreds of members who are in biz who read the monthly press release that goes out announcing the classes.
That exposure alone can increase your readership considerably if you give a website address that has an opt-in box on it with an attractive offer for people to go sign up on your list.
What do you know?
Do you know something most people do not?
Do you have a skill or talent you can share?
The credibility from having taught just one class there would be all you'd need to catapult you into a whole new sphere of influence!
What to do next
I suggest that you go down to your local SBA, if you have one, or a town near you, and see what's up. If they have classes you can register for, take one and get to know the admin people, and make friends.
Then call them and mention that you have something they can use – and if they take it, you're in!
All you need to do is put a five steps class together:
5 Steps to creating a domain name, 5 Steps to building a website,
5 Steps to writing compelling copy,
5 Steps to selling on Ebay,
5 Steps to marketing online,
5 Steps to marketing offline
…. or whatever your skills, knowledge or expertise is in.
Give your class a compelling name, propose it and then teach it.
Offer something that has to do with whatever you know how to do, and whatever you would feel comfortable showing a complete newbie how to do it.
Once you teach there for a few months, your name will get around as the one to go to for whatever you're known as the expert at. People will start calling you and asking for  services. So in addition to what you do online, you'll also have a good local clientele.
Why would you want a local clientele?
Because you want to connect with and stay in touch with your local community; you don't want your face in front of your computer screen all day anymore; and because it ain't good for your bod to be sitting all day long.
If you like to share info, consider teaching at your local SBA.
I guarantee you that you know more about your subject than the "normal" person out there – and that makes you an expert to them! Try it!
Doing local classes strengthens your internet marketing expertise by improving your communication skills and self-confidence. You go!