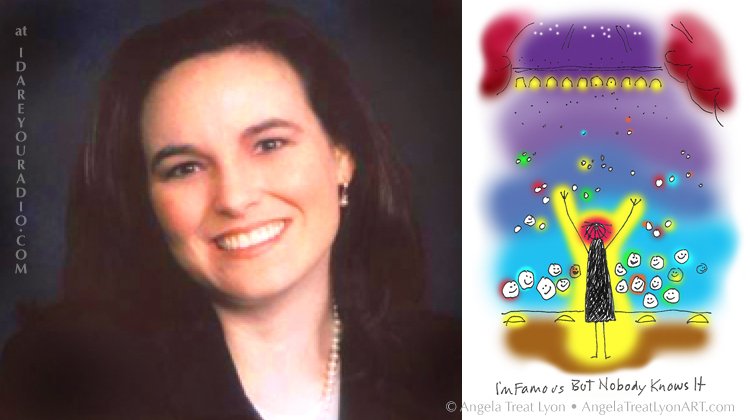 I'm delighted to bring you dynamic entrepreneur, Samantha Hartley, who is an expert at helping business owners recognize and create their business brand identity.
If you have a business, this is important – and even more so if you have no brand identity, you'll really want to listen to this week's show.
What, exactly, IS branding?
Why do you need to be so conscious of it, and careful in its creation?
Most of us think of branding being your business card, how your brochures and other promotional materials look, your office, your websites, your Facebook pages and Twitter feed – even how you answer the phone!
Your brand identity is more!
Your Brand identity is at the root of all the things I listed above. Once you have created a brand identity that is aligned with your values, talents, gifts and the value you bring to the marketplace, it expresses
who you (or your business) are,
what you do for your clients, and
is your representative even when you're not there to speak.

I invite you to click on the link or the logo to listen in to our powerful conversation where Samantha shares lots of hints and tips about branding, what it is and how you can up the oomph of your own.
Her tips will help you consolidate your thoughts and ideas about getting your brand created in a way that concisely and clearly communicates the value of your business.
Take her great brand assessment (free) at her site to see where your understanding of your business and its value and how you express it stands–you'll get back a 5 to 11 page report according to the answers you give on the assessment. I took it, and learned a lot!
MORE: Take Your Biz to the Next Level!
I interviewed Samantha again for more info on branding, in case you're at the point where you're ready to take your business to the next level. I call it: Can People Find You Amidst the Marketplace Chaos?

Click on the I Dare You Radio logo to the left, or Listen to this important information HERE.
 We also created a shorter (12 min.) audio for you about the Branding Action Roadmap Course, which you can hear here (hear hear!): Are You Invisble in the Marketplace? The Branding Action Group will Save Your Pretty Butt!

Click on the Daring Dreamers Radio logo to the left, or LISTEN HERE