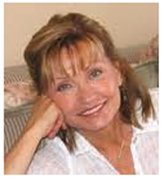 Connie Russert, Psychic, and Author of Channeled Messages from A Parallel Universe, was a very straight, left-brained computer professional and then a university professor who worked as an advocate for deaf people.
After she was shown how to start channeling, she was so skeptical it took her five whole years before she believed her channeling was for real!
Not only does she now channel full-time, she also channels in ASL on Skype with people! Her transformation was pretty awesome.
If you have had inklings that you might be a channel, or want to try channeling, you'll want to listen in.
CLICK HERE or on the I Dare You Radio logo to the left to hear Connie describer her amazing transformation.

You also might want to look up this book: Opening to Channeling, by Sanaya Roman and Duane Packer. This is the very same book I read years ago when I was taught now to channel – it's a keeper book, not one of those ones you read and then pass on to the library.
________________________________________________________
_________________________________________________________